The 95th anniversary of the 1st of July Maritime and Cabotage Day was celebrated with ceremonies held in Antalya.
The 95th anniversary celebrations of the 1st of July Maritime and Cabotage Day started with the laying of a wreath at the Atatürk Monument in Antalya Cumhuriyet Square and the singing of the National Anthem.
Antalya Deputy Governor Cengiz Cantürk, Antalya Naval Commander Senior Colonel Gökhan Göktan, Coast Guard Education and Training Commander SG Senior Colonel Kamil Ömer Erselcan, Coast Guard Antalya Group Commander SG Senior Colonel Sezai Karakurt, Antalya Harbor Master Mustafa Yılmaz, Chamber of Shipping DTO) Antalya Branch President Ahmet Çetin, Turmepa Marine Clean Association Antalya Branch President İzzet Ünlü and maritime sector representatives attended.
A wreath was laid in memory of the Martyrs of the Sea from the Coast Guard boat off the Kaleiçi Ancient Harbor. Breakfast was served to the guests on the Akdeniz University Fisheries research ship.
During the ceremonies, it was stated that the Cabotage Law paved the way for Turkish maritime and the maritime sector has an important place in the world economy.
Maritime sector representatives stated that maritime trade contributes 3% to the Turkish economy and drew attention to the fact that according to the figures of 2020, the world maritime trade has reached 12.54 billion tons.
Stating that the world maritime trade rate has reached 3.9 percent in the last 10 years, the sector representatives said that the increase in the world maritime trade is 4.5 percent in containers and 2.3 percent in bulk cargo.
Seaway has a share of 81% in world transportation, 17% of crude oil, 17% of minor bulk cargo, 16% of container, 12% of iron ore, 10% of coal transportation and 9% of petroleum products by sea. Note that it was moved.
According to the figures of 2020, 144 million tons of loading, 264 million tons of unloading, 63 million tons of transit cargo, 471 million tons of miscellaneous cargo and 10 million TEU container services were provided at Turkish ports.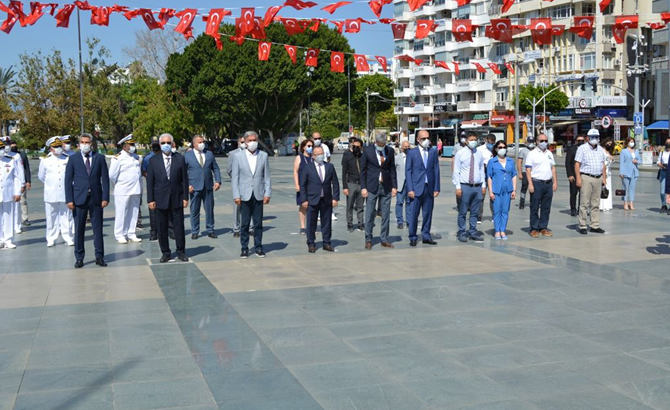 News2Sea
The opinions expressed herein are the author's and not necessarily those of News2Sea.



#July #Maritime #Cabotage #Day #celebrated #Antalya