Speaking at the closing session of the 12th Transport and Communication Council Common Mind Conference held in Afyonkarahisar, Minister of Transport and Infrastructure Adil Karaismailoğlu announced when the Kanal Istanbul Project will be completed.
Pointing to an ambitious process shaped by holistic development-oriented mobility, digitalization and logistics dynamics in the fields of transportation and communication, Minister of Transport and Infrastructure Adil Karaismailoğlu said, "As before, the transportation and communication sectors will be the main locomotives of development in every field, especially the economy, in 2053 and beyond. They will play an important role in the journey to 2071. The world is developing very rapidly. Social and economic changes are now happening almost instantaneously. Therefore, we will include the needs that have not been revealed more in our plans in the new transformation process. "We will design the future in data transportation and set targets accordingly. With our vision in line with our Transportation and Logistics Master Plan and Strategic Plan, we will continue on our way by taking into account the dynamics of mobility, digitalization and logistics."
"OUR PEOPLE'S WEALTH CAN BE ESTABLISHED WITH EQUALITY IN DEVELOPMENT"
Minister Karaismailoğlu stated that they are working with the aim of supporting equality in geographical development while making Turkey the dominance of the world's largest and most important commercial corridors, and said, "In our transportation ecosystem, which we have designed as an integrated, we integrate all our modes with each other on the basis of efficiency. We ensure that our citizens in Kars or Van obtain the opportunities they have in the field of communication and communication, as well as the welfare they gain in these areas.Our main source of motivation is the added value we provide for holistic development, which is indispensable for national economic independence, because the welfare and happiness of our people can only come from the village. The city can be established with equality in development from east to west," he said.
Pointing out that the Ministry of Transport and Infrastructure and its related institutions have the largest share of the government's total budget, with a rate of 31 percent, within the scope of the 2021 investment program, Minister Karaismailoğlu said, "With the appropriation of 44.8 billion TL in 2021, in line with the supreme interests of our country and our people, transportation and infrastructure We continue our investments without slowing down. Therefore, our responsibility is great and our duty is supreme."
Karaismailoğlu continued his speech as follows:
"Since 2003, we have allocated 105.1 billion dollars for our highways and carried out highways, divided roads, bridges, tunnels, viaducts, single road and improvement works. While introducing Turkey to comfortable and high-driving roads, we have significantly reduced the fatal accident rates. We realized our YHT projects by investing 32 billion dollars in our railways. We built urban rail system lines, we carried out our renovation, signalization, electrification works and we brought logistics centers that increase our claim in railway transportation to Turkey. We have literally built our country with iron nets.
We have transformed the railways into a strategic power of Turkey. By allocating $15.1 billion to airlines, we increased the number of airports from 26 to 56. We increased our capacity with new terminal buildings. While THY became a world brand, we became the transit center of the world with Istanbul Airport. We are building ports suitable for the ships of our time on sea routes. We are building marinas, fishing shelters and boatyards to increase our yacht tourism capacity. By increasing the number of our shipyards, we are becoming an assertive country in the shipbuilding sector."
"OUR FUNDAMENTAL PRINCIPLE IN 5G IS TO MAKE THIS CHANGE WITH SIGNIFICANT DOMESTIC AND NATIONAL FACILITIES"
Stating that they are preparing Turkey for a new era in terms of communication and communication competencies, Minister Karaismailoğlu said, "As in all major investments in information, communication and communication, we ensure the active participation of our domestic industrialists in the processes in 5G. Our basic principle is to use significant domestic and national opportunities. To ensure this transition. We came together with 10 companies that took on important tasks in the 5G project and determined a harmonious business model. TÜBİTAK also supports the 'End-to-End Domestic and National 5G Communication Network Project', which we developed for this purpose." gave his statements.
"Public-Private Collaboration Models Set An Example for the World"
Minister Karaismailoğlu noted that in line with Turkey's needs, they have come a long way in Public-Private Partnership projects that help complete infrastructure investments quickly without burdening the central budget.
Emphasizing that they have realized large projects without burdening Turkey's own resources with the Build-Operate-Transfer model, Minister Karaismailoğlu said, "Our Public Private Partnership models set an example to the whole world. The budget allocated to PPP projects in the transportation and infrastructure budget in the last 20 years constitutes 22 percent of the general budget. Advanced and the PPP model, which is frequently used in developing economies, is one of the most important financial instruments to meet the transportation and infrastructure deficit.Projects made with these models combine risk sharing, faster and more efficient project processes by combining private sector dynamism, public experience and the support of international financial institutions. With the completion of the projects in a short time, fuel and time savings and significant contributions to the economy are provided." made statements.
"MARMARA REGION AND ISTANBUL WILL BE THE FOCUS OF WORLD TRADE"
Pointing out that Turkey is the heart of the Middle Corridor and North-South Corridor in terms of logistics, Minister Karaismailoğlu pointed out that the Marmara Region and Istanbul will be the focus of world trade and the amount of cargo passing through the Straits will increase every year. Pointing out that Kanal Istanbul will provide a 13 times safer passage than the Bosphorus, Karaismailoğlu said, "Today, it is an undeniable fact that the Straits are faced with a traffic well above their capacity and therefore a risk. Today, approximately 43 thousand ships pass through each year. 30 percent of these vessels are tankers carrying oil and other similar dangerous/toxic substances. On the other hand, the size of the shipping vessels is increasing. This makes Istanbul the world's most dangerous transit waterway.
Bosphorus, which is one of the most important cultural centers in every age in terms of natural and historical values; It was a living space where countless places and activities such as nature, beaches, architecture, gastronomy, sea baths, Bosphorus villages, fishing, boating, etc. meet. However, in the changing world conditions, the cultural heritage of the city has also been seriously damaged due to factors such as increasing transit ship crossings in the Bosphorus, density, pollution and security concerns.
Karaismailoğlu continued his words as follows:
"Canal Istanbul, which is expected to significantly reduce the transit traffic of the Bosphorus, offers important opportunities to revive the Bosphorus culture, increase the urban sea transportation in the Bosphorus, prevent pollution in the Bosphorus, and create new recreation areas. Marmara Region will be the economy, finance and trade center of Eurasia with its ports, logistics regions, railway connections, Marmaray and growing industry. It will turn into the most important logistics center in the world with its connections and logistics bases."
"CANAL ISTANBUL WILL BE COMPLETED IN 6 YEARS"
Stating that the Canal Istanbul route, which is determined among five alternative routes, passes through an area where 78 percent is water and a water basin, Minister Karaismailoğlu said, "This way, minimum excavation work will be done. It will be carried out as a project to expand the Sazlıdere Basin, which is already a waterway, and prepare it for ship passage. With the Kanal Istanbul Project, the loss of water resources caused by the Sazlıdere Dam will be increased and improved with the Karamandere, Pirinçci and Hamzalı Dams, Melen System, Yeni Şamlar Dam, Osmangazi and Sungurlu Dams, Kömürköy, Kızılağaç and Balaban Dams.
There is no forest land on the route of Kanal Istanbul. The length of the canal will be 45 km, its base width will be a minimum of 275 meters and its depth will be 20.75 meters. The upper width of the canal is designed in accordance with the elevation difference and varies between 360-600 meters. After the tender process, the preparatory work will take approximately 1 year. We aim to complete the construction in 5 years and 6 years in total," he said.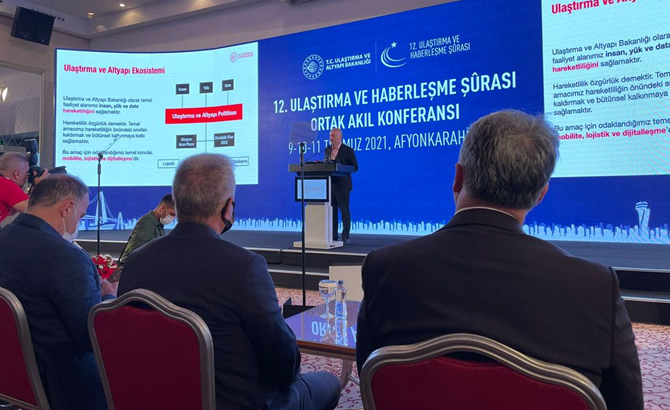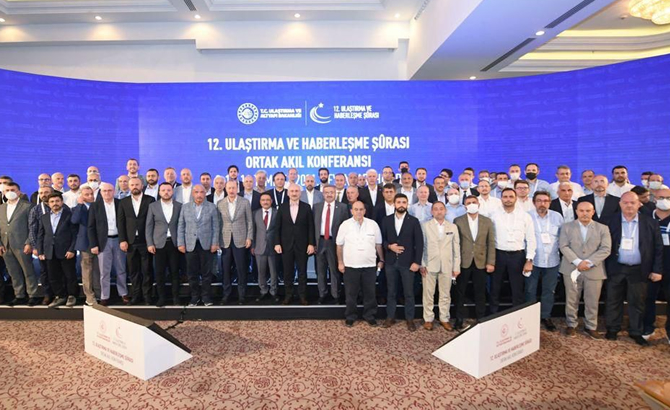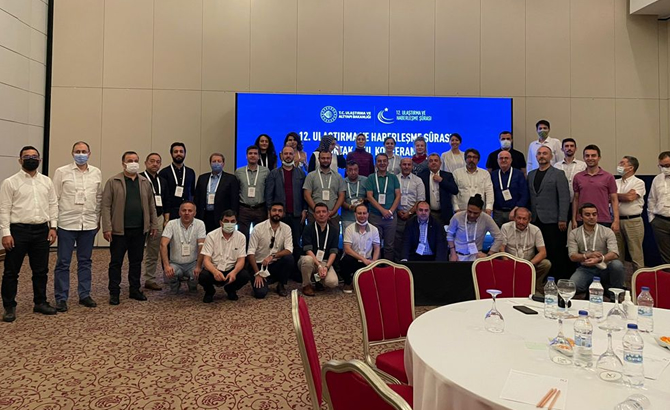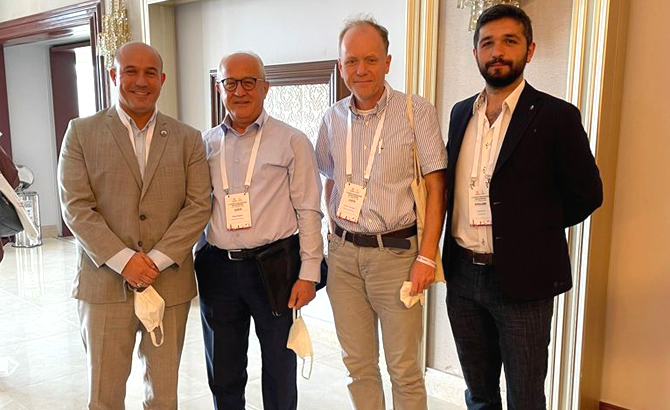 News2Sea
The opinions expressed herein are the author's and not necessarily those of News2Sea.
#12th #Transport #Communication #Council #Common #Mind #Conference #held #Afyonkarahisar