The endangered water buffalo stingray found on the beach in Adana's Karataş district was brought back to life by being released to the sea thanks to the sensitivity of the surrounding.
Emin Yoğurtcuoğlu, who came to the natural wonder of Akyatan Lagoon and Karataş at the invitation of Mayor Necip Topuz to take bird photographs, noticed that there was a stingray on the shore.
The man, who saw that the stingray, which showed signs of life when poured a little water on it, was alive, immediately put the stingray in his hand and brought the stingray back to life by putting the stingray back into the sea.
GENERAL DANGEROUS VATOSIS APPEARED
Later, Emin Yoğurtcuoğlu, who showed the images to the experts, learned that the genus of the stingray is the buffalo-head stingray, which is an endangered species.
Yoğurtcuoğlu said, "Suddenly, an unexpected guest appeared before us. I saw the flapping movement on the shore and I saw that stingray. It was a very rare species seen in the Mediterranean Sea, on the east Atlantic coast and west of Africa. It is a species that can be seen 15-20 a year in our country. When we saw this animal dying on the shore, I didn't know what to do at first. I didn't want to touch the stingray with bare hands on a subject that I wasn't familiar with. I put the boots in my hand and put him into the sea. Because when we poured some water on it, it gave a sign of life, "he said.
"THERE WERE FISH HUNTERS NEAR THE VATOS"
Stating that there are illegal fishermen near the place where he found the stingray, Yoğurtcuoğlu said, "While we were trying to bring the stingray back to life, there were illegal fishers around us. When I told this incident to my expert friends, he said that they threw the stingrays on the shore and left them to die. This has been devastating to me. "At that time, even one of those fishermen came to us and laughed."
"THIS IS A SUBTROPIC KIND"
Assoc. Dr. Cem Dalyan, on the other hand, stated in his statement on the subject that the water buffalo stingray is a subtropic species and said, "This type is a stingray species found in the warm seas of the world except the pacific. It is a subtropic species that is mostly distributed in the Eastern Atlantic and Mediterranean. It can grow up to 2 meters in length. If a species in all waters of the Mediterranean Sea and the Gulf of İskenderun and Turkey is seen most near the coast, "he said.
Stating that the buffalo stingrays are fed with crabs, mussels and small fish, Dalyan later said:
"It is a cartilaginous fish that is easily attached to fishing nets due to its size and therefore fishing pressure is known to damage its population. Almost all cartilaginous fish are endangered in the world. Although the protection status is not at the upper levels yet, this type is one of the values ​​of our seas that must be protected. The fishermen of the region are obliged to bring this species back to the sea safely. "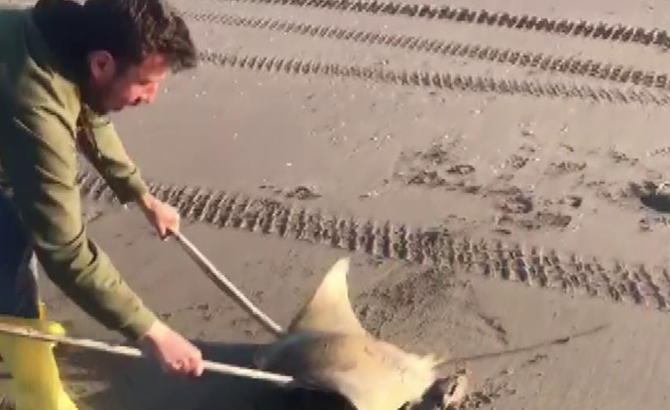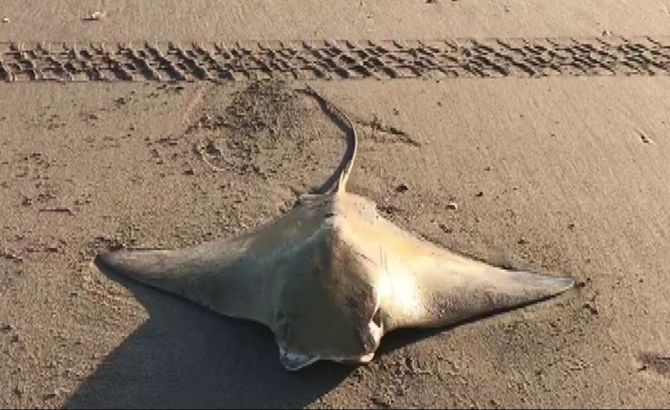 News2Sea


#Buffalo #rays #beach #Karataş