The countdown continues for Turkey's 'first intelligence ship' TCG Ufuk corvette. The experts, who showed a successful performance in the tests and explained the possibilities and capabilities of the ship, which came to the end for 'acceptance', think that our country can break new ground in this field.
When the calendars showed February 2019, a ceremony at Tuzla Shipyard drew attention in President Recep Tayyip Erdoğan's daily schedule. There was the launching ceremony of the TCG Ufuk Test and Research Ship and all the critical figures in this field, including the President, would be there.
The Ufuk corvette, which was launched that day, showed a very valuable performance during the test process and as of today, the 'acceptance' has come to an end. Sertaç Aksan from TRT Haber talked with Defense and Maritime Researcher Kozan Selçuk Erkan about the possibilities and capabilities of TCG Ufuk, which will be "Turkey's eyes and ears on the seas", and what kind of strategic benefit it can provide to Ankara.
WHY IS THE TCG UFUK INTELLIGENCE SHIP IMPORTANT?
When we meet with Researcher Erkan, we first seek an answer to the question of why the TCG Ufuk ship is important.
Erkan begins by saying, "It is the first Turkish ship designed entirely for this purpose, for the 'technological digital warfare', which is the biggest weapon of our time."
TCG says that the main purpose of Ufuk can be defined as electronic data monitoring, collection, analysis and if necessary countermeasures and deception-blocking of enemy electronic signals.
At this point, he gives an interesting detail and shares the information that many sensitive equipment and sensors developed by the Turkish defense industry will be on this ship. In fact, this means that these sensors and systems are directly tested both at sea and under the most difficult conditions. In our conversation with Erkan, the subject comes to the effects of the change in land wars on the seas. Kozan points out that today's wars are not fought only with weapons, and underlines that the determining factor in the 'private square' is 'information technology'.
"There used to be 'Someone Watching Us' programs. The cameras were all over the house and the viewer could instantly witness the events in the house. Imagine carrying such a capability to the seas… Imagine being able to see what the enemy ship sees, hears, and tactically plans. Don't limit your dream to just ships. Remember the fact that at some points, TCG Ufuk can easily monitor signals on land. Do you understand better now what kind of position Ankara has reached? In addition, TCG Ufuk has the ability to see the electronic communications, radar signals and the energies created by other communication sensors of the countries in the sea area. It is useful to seek an answer to another very sensitive issue here… Do you think TCG Ufuk can only monitor these systems, or can it intervene? The ship has the ability to blind them after receiving and processing this information in question. As you can see, even this last sentence reveals how TCG Ufuk is a power factor for Ankara.
Of course, it will be possible to instantly share the information obtained with other security institutions… Our other ships will share instantaneously with our sea and land elements. On the other hand, there is no country with an electronic infrastructure as strong as ours, especially among our competitors in Mavi Vatan. They generally use imported systems that they pay for and buy. What does it mean? You cannot change the signal data according to your mind whenever you want. Because such an exchange is only possible with the permission of the country that sold you that system. This permission is not easily granted except under very special conditions. So what does this mean? We told you that TCG Ufuk can solve all these systems and even share them with other security institutions… So we have a system that can be solved and codes that cannot be changed. This naturally means that 'all your other security institutions' can now easily follow that signal."
TURKEY WILL TAKE PLACE IN 'THE MOST ADVANCED LAYER'
We talked about the possibilities and capabilities of TCG Ufuk and how they will contribute to Turkey's power… The last two stops in our conversation with Kozan are 'other countries' and 'export potential'. We know that these ships are not very common. Kozan makes a correction and says 'could not be' rather than 'not'. We learn that many countries cannot take steps in this field because they do not have the technology to equip this ship. In short, apart from the USA, Russia, China, France, Sweden, Germany, Norway and England, there are not many navies with specialized ships in this regard.
WE CAN ACHIEVE A FIRST IN THE WORLD
We understand that 'expensiveness' is not the only problem. We learn that systems are not only expensive, but also must contain separate solutions for each country. Erkan sets out from an example to express it more clearly:
"The Turkish intelligence ship must collect and analyze signals from both Western and Eastern bloc technology. However, the situation is different for Ukraine, where we export MILGEM. They only need intelligence information of versions of Russian systems that are not around us. Likewise, the situation in Pakistan is similar. So the needs of each country are different. Turkey's military ship export and construction policy can make bolder moves compared to other developed countries. In other words, it may be possible to manufacture 'special' ships with friendly and allied countries. If this is successful, it will be the world's first intelligence ship export.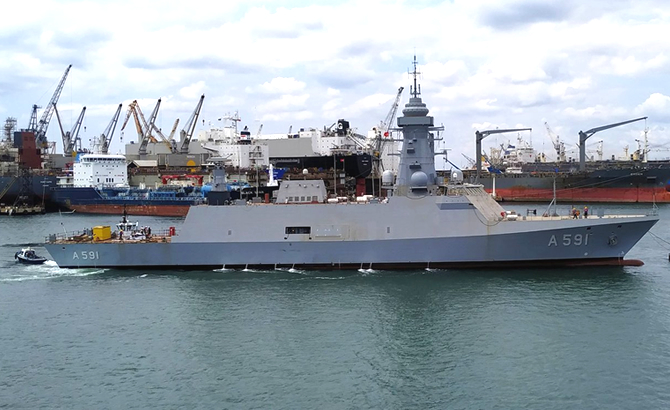 News2Sea
The opinions expressed herein are the author's and not necessarily those of News2Sea.
#Countdown #begins #TCG #Ufuk #Test #Research #Ship