Fenerbahçe Ferry, one of the largest and most interesting objects of the Rahmi M. Koç Museum, is being renovated. The ferry will be able to be visited again at the Rahmi M. Koç Museum after all its operations are completed.
Fenerbahce Ferry, which is in the collection of Rahmi M. Koç Museum as one of the important ships of Turkish maritime history and one of the iconic objects of Istanbul, went into maintenance after 10 years.
The maintenance and repair works of Fenerbahçe Ferry, which has been one of the most popular visiting areas of the museum since 2009, are being done by the Istanbul Metropolitan Municipality (IMM) at the Haliç Shipyard.
After the boat is taken to the pool and its needs are determined, underwater sheet metal replacement, painting, propeller removal, maintenance of deck and terrace floor trees, replacement of handrails and general maintenance-repair operations will be carried out.
SERVED FOR 55 YEARS
Fenerbahce Ferry was built in 1952 at William Denny&Brothers Dumbarton in Glasgow, Scotland, together with her husband, the Dolmabahçe Ferry.
A member of the "Garden-type" ferryboats, the ferry was put into service on May 14, 1953 at the Company-i Hayriye (today's Turkish Maritime Affairs).
The ferry with a capacity of 2,100 passengers, which has been traveling between Sirkeci-Adalar-Yalova-Çınarcık for many years, made its last voyage, called the 'Farewell Tour', on 22 December 2008. The ferryboat, which has 2 Sulzer diesel engines, each with 1,500 horsepower, and can speed up to 18 miles per hour with double propulsion, impresses with its huge chimney and especially its wooden parts.
NOSTALGIA FOR ADULTS, FUN FOR CHILDREN
Fenerbahce Ferry, exhibited at Rahmi M. Koç Museum, Turkey's first and only industry museum, offers a delightful view of the Golden Horn in a nostalgic atmosphere for adults.
On the Fenerbahçe Ferry, children also have a unique experience by visiting Yalvaç Ural's Toy Collection. In addition, temporary exhibitions and museum educational activities are also featured.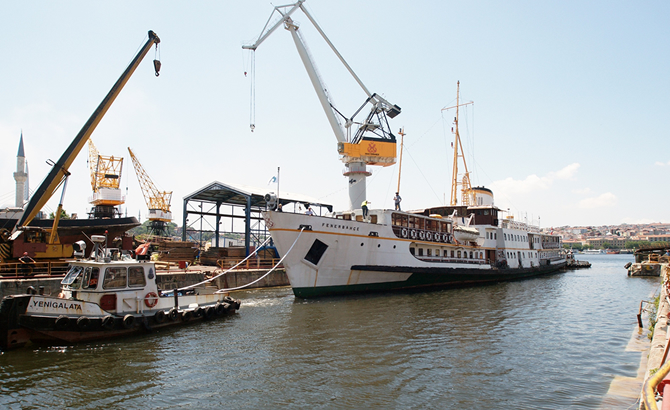 News2Sea
The opinions expressed herein are the author's and not necessarily those of News2Sea.



#Fenerbahçe #Ferry #maintenance #Haliç #Shipyard