Citizens could not believe their eyes when they saw the 3 meter long giant shark that washed ashore in the Datça district of Muğla.
According to the information obtained, citizens who saw a shark in the sea near the shore in Datça Gereme Bay reported the situation to the Coast Guard teams. Datça District Agriculture and Forestry Directorate teams were sent to the region with the notification.
Fisheries Engineers Servet Kutlu and Fatih Aydoğan, who work in the District Agriculture and Forestry Directorate, who came to the bay where the shark is located, determined that the shark, which was at the seaside, was motionless on the water and died.
It was determined that the shark, which was pulled to the beach with the help of the people around, was of the grizzly-eye type and presumably pregnant. After the investigations, the dead shark was removed from its location by the municipality teams.
CITIZENS WANTED TO HELP
Stating that they wanted to help the shark that washed up on the shore, Nevin Akyoneri stated that they immediately informed the Coast Guard teams and that the authorities came to the area and said, "It was like she was alive when we arrived, she has breasts, I don't know if she is pregnant or has just given birth."
"THREE METERS LENGTH, 200 KG WEIGHT"
Servet Kutlu, a Fisheries Engineer at Datça District Directorate of Agriculture and Forestry, said, "We came to the region upon the citizens' notice. It was immobile when we arrived. We determined that there is a deep-living six-gill shark of the Bozcamgöz species. We estimate that he is about 3 meters tall and weighs 200 kilograms. Because of the swelling in his belly, he may have approached the shore for the purpose of leaving or feeding. There were no signs of beating and no scars from a hunting vehicle," he said.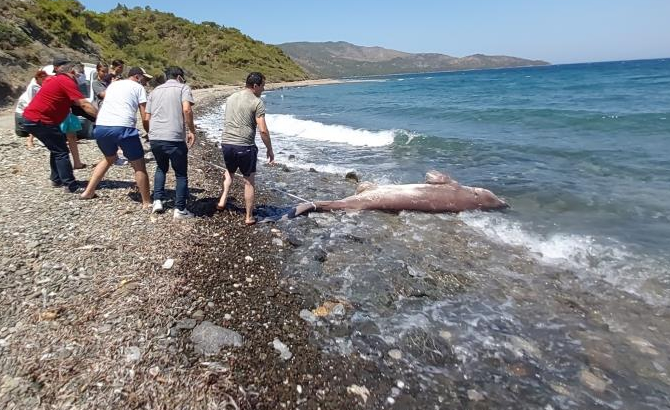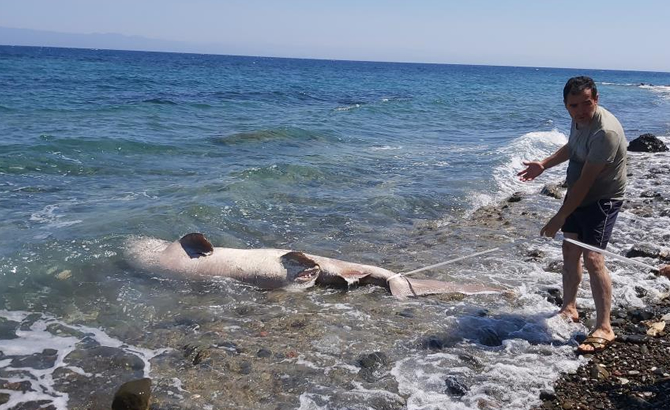 News2Sea
The opinions expressed herein are the author's and not necessarily those of News2Sea.



#Giant #shark #washed #ashore #Datça #Gereme #Bay