During the excavations in the ancient port city on the Firuzköy Peninsula in Avcılar, Istanbul, 4,000-year-old items and a 110-meter harbor road were found. Mücahit Topçu and Caner Emre Kınacı entered the excavation area and viewed the oldest ancient port city of Istanbul.
It is a thousand years older than the ancient port in Yenikapı. Unearthed during archaeological excavations in Avcılar Firuzköy Peninsula, the ancient port city dates back 2,500 years.
In the studies carried out by an international team since 2007, many antique objects and trade materials dating back 4,500 years have been found in the region. The region is estimated to play an important role in the Aegean, Mediterranean and Black Sea trade routes.
Speaking to CNN TÜRK about the studies, Kocaeli University Faculty Member Dr. Haldun Aydıngün said, "We have excavated very little of a very large port complex. But we have identified places. We think that such a large infrastructure was built because it was a very important trade center. Some of the tins were also in Hittite pots. These are materials that are predicted to be found in this region in archeology. "We determined the relations of this region with Afghanistan and even with England. It belongs to 3,500 years ago. There is also a port road with a length of 110 meters. It goes for 110 meters, then turns 90 degrees and reaches a pool. Next to the pool, 40 meters by 40 meters." "There's a huge market area around the world," he said.
"WE DETECTED HOW THE INFRASTRUCTURE WAS BUILT WITH TWO WOODEN PILES"
The harbor road and the way it was built in the ancient port city excited the archaeologists. Archaeologist Dr. Alkiviadis Ginalis said, "We are investigating the port roads. We are trying to understand how the ports were shaped from the Roman period to the Middle Ages. Here we found not only the superstructure, but also how the substructure was built with two wooden piles. Tightly formed ceramics and mortar were used." .
With the continuation of the excavations, it is aimed to unearth the oldest known ancient port city of Istanbul and other complexes.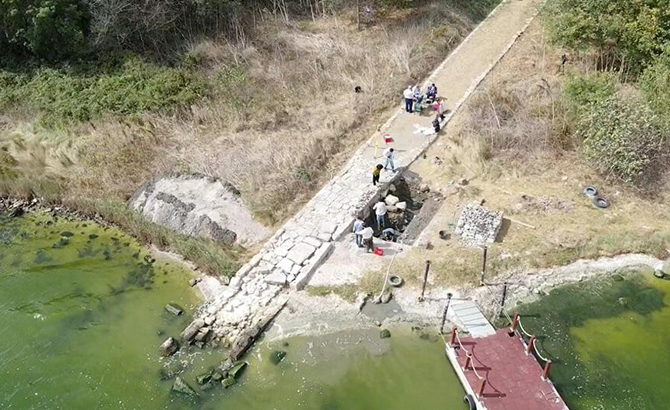 News2Sea
The opinions expressed herein are the author's and not necessarily those of News2Sea.
#Istanbuls #oldest #ancient #port #city #unearthed