The "Yakamoz: Sea and Women Symposium", organized by TMMOB GEMİMO on March 8, International Working Women's Day every year since 2016, and where shining women of the maritime sector come together, will be held online this year due to the pandemic that has affected the whole world.
IV. Female speakers from the maritime industry will take place at the Yakamoz Deniz and Women Online Symposium.
The aim of the Yakamoz Symposium was to come together with female sailor members within the body of TMMOB GEMİMO to solve the internship problem of especially female students. Later, it was expanded with a structure that addresses the problems of all women seafarers and creates a road map in this regard. It is aimed to create awareness among students and colleagues who are new to the maritime profession, to shed light on their professional lives in maritime and to create solidarity by presenting the success of successful women in their professional journeys, the difficulties and encouraging aspects of the profession.
The organization, which was attended by more than 50 speakers and more than 2000 sector representatives in the symposiums and events held in the past years, continues to be one of the biggest organizations of the Turkish maritime sector, and our women speakers who have achieved success nationally and internationally, both their own stories and their areas of expertise. It is predicted that it will be an organization that will make a sound with its related shares.
The event, which will be organized with the motto of "Our Women, The Glow of the Sea", will be held online this year due to the coronavirus epidemic. The 8 March International Women's Day Symposium will start at 13:00 and end at 17:00.
The program of the event is as follows:
The program, which will be held between 13.00 and 17.00 on March 8, is as follows:
13.00-13.30: Opening speeches
13.00-13.50: Rita Al Samaani Jansen (Ortak İnce & Co)
13.50-14.10: Patrizia Kern- Fereetti (Maritime Department Manager Swiss Re)
14.10- 14.20: Ara
14.20- 14.40: Prof. İlknur Erdoğan Colmorn (Navigation and Digitalization HSB)
14.40-15.00: Melisa Özen (appointed person and Quality Manager, Kaman)
15.00-15.20: Ada Ezgi Baser (Bunker Trader, Dan Bunkering)
15.20-15.30: Ara
15.30- 15-50: Yonca Çetin (Marine Traffic Operator – General Directorate of Coastal Safety)
15.50-16.10: Nilgün Bal Doğan (Far Road Chief Engineer)
16.10-1630: Sena Demircan (Founder- Demircan Law Firm)
16.30-16-50: Free Microphone
16.50- 17.00: Closing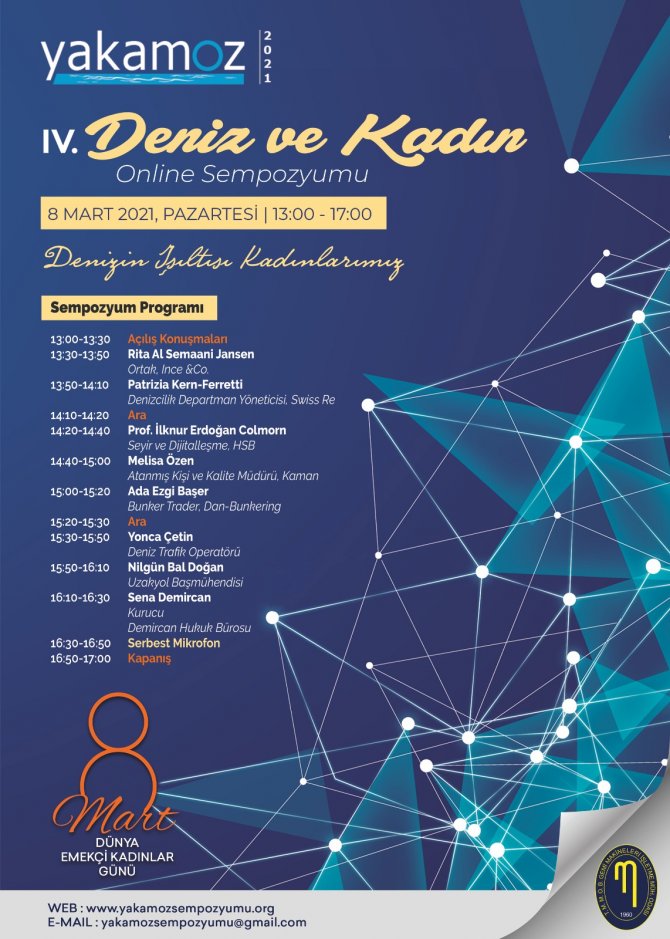 News2Sea
#Yakamoz #Deniz #Women #Symposium #held #online