"Jetcar", a car-like sea vehicle produced by an enterprising businessman in Antalya, attracts the attention of those who see it.
In Kepez district, 3 friends designed a car-like sea vehicle that goes on the sea surface. Entrepreneurs, who started to work for the mass production of the vehicle, created the technological infrastructure.
Later, the work was continued by businessman Ferit İşler. Establishing a company in Manavgat district, İşler succeeded in launching the speedboat that he produced and called "Jetcar".
İşler signed a success story by meeting the demands coming from the country and abroad. Ferit İşler aims to head towards the Middle East countries by opening a factory in this country with his two partners from Egypt in the coming months.
"TO PEOPLE IT FEEL LIKE IT WAS UNBELIEVABLE"
Ferit İşler said that he is a 28-year-old boat manufacturer, and he and two of his friends decided to build a new watercraft about 2 years ago.
Stating that as a result of their consultations, they decided on the manufacture of boats that look like cars, İşler said:
"We made the necessary drawings and technical processes. As we did it, people's eyes were positive. This gave us great excitement. After we built the boat and took the test drives, we started selling, but many people did not believe our boat even when they saw it in the water. He claimed it was a photomontage. It seemed like an unbelievable thing to people, but we did it, we succeeded. There is a huge demand right now from all Middle Eastern countries."
Stating that they have produced 28 "Jetcars" and sold most of them abroad, İşler said that their vehicles are currently used on the coasts of Egypt, European countries and Russia.
Stating that the Middle East countries are very warm towards "Jetcar", İşler said, "The Arabs are a little more excited about this. That's why we are thinking of opening a factory in Egypt. My partners in Egypt have been doing advertising work on this subject for 5-6 months. "We will go to Egypt and prepare the necessary documents and manufacture there on a factory basis. Our production will probably be in the form of mass production. In Turkey, we can do it one by one." said.
Stating that they want to make the vehicle produced with an electric motor go both on land and in the sea by doing R&D work on the "Jetcar" in Egypt, İşler said, "We will put wheels on our boat. It will be closed in the sea and opened on land. You will lower the wheels while coming from the sea to the coast. You will leave the land." he said.
PROVIDES WITH JETSKI ENGINE
İşler stated that the physical appearance of Jetcar is a sea-adapted version of a famous brand's automobile model and that it moves on the sea with a jetski engine.
Stating that the engine power of the vehicle can reach up to 300 horsepower, İşler said:
"Our vehicle gives the feeling of driving in the sea. It is a strange feeling. There is no limit in the attraction. Everywhere is available as far as the sea traffic allows, but it is not like that on land. There is a risk of somersaults, tire bursts, and burns on land. Such a situation is never out of question at sea. You are free to drift as you wish as long as the sea traffic allows.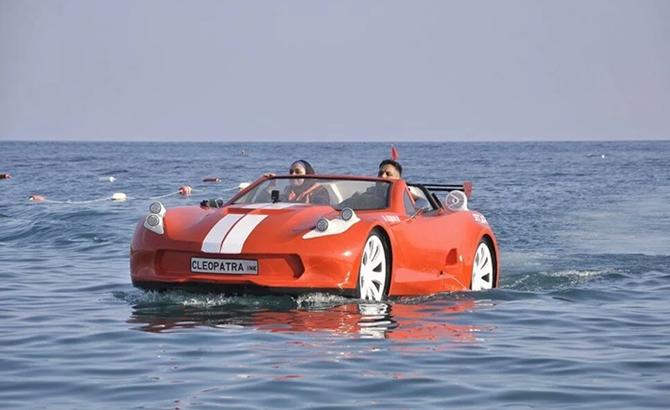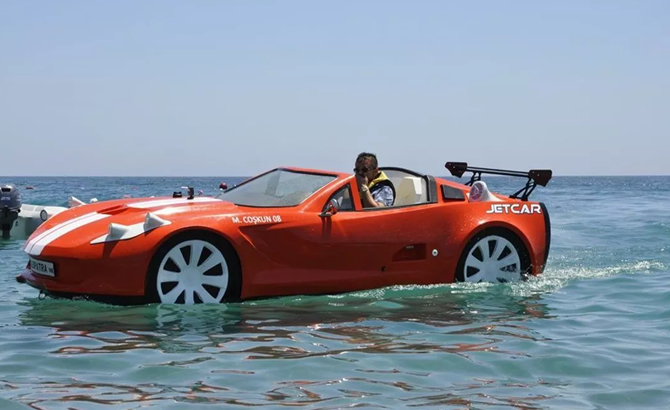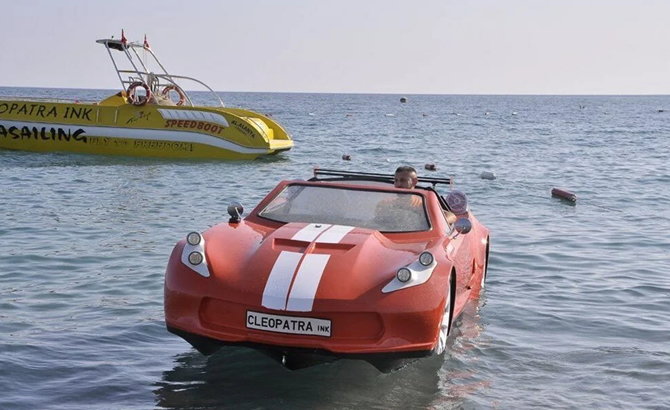 News2Sea
The opinions expressed herein are the author's and not necessarily those of News2Sea.
#Marine #vehicles #cars #attract #attention