The mayors of the Turkish Republic of Northern Cyprus (TRNC) visited the Hatay Sea Bus (HADO) Port and EXPO 2021 Hatay areas built by the Hatay Metropolitan Municipality (HBB).
Hatay Metropolitan Municipality Mayor Assoc. Dr. The mayors of Lefke, Mehmetçik, Geçitkale, Tatlısu and Yeniboğaziçi, who came to Hatay from Cyprus at the invitation of Lütfü Savaş, examined the HADO and EXPO projects, which will contribute to the tourism and economy of the city, and received information from the authorities.
During these visits, the Cypriot mayors were presented to the Deputy Secretary General of HBB Bülent Ok, Arsuz Mayor Dr. Asaf Güven and HBB executives accompanied him.
HBB Deputy Secretary General Bülent Ok, We are planning to make flights to Famagusta in 3 and a half hours.
Bülent Ok gave information about the HADO project to his guests. Stating that the project was carried out in accordance with all regulations, Ok said, "There will be ships with a capacity of 300 and 300-400 gross tons, which will be used only for carrying passengers in the port. We plan to sail to Famagusta in 3 and a half hours with these ships. " said.
"WE INTEND TO CARRY HADO TO OTHER COUNTRIES AFTER FAMILY, BY HOWING THE TURKISH FLAG"
Stating that the vessels that will depart from HADO Port will be TRNC flagged, Ok said, "Our President Assoc. Dr. Lütfü Savaş stated in every speech that this project is not commercial. Our President stated that this is a strategic partnership beyond trade. TRNC flagged sea buses will now operate in the Mediterranean with strategic importance. We intend to carry HADO to Beirut, Tripoli, and even to Ashdod, Israel, if Mediterranean security areas are possible, by hoisting the Turkish flag after Famagusta. This is indispensable in terms of the feasibility studies we have done for the Cyprus economy," he said.
After the HADO Port, the Cypriot mayors toured the EXPO area in the Arsuz-İskenderun region.
Here, too, the mayors, who received information about the preparations in the field and the organization from the HBB officials, explained their thoughts on both projects.
Geçitkale Mayor Hasan Öztaş said, "Really magnificent projects. Projects that will give cities a contemporary look and increase the quality of life of people. Thanks to these projects, I believe that the value of the region will increase. Thank you to everyone involved," he said.
Tatlısu Mayor Hayri Orçan, who said that they had the opportunity to examine the EXPO areas on-site, said, "New living spaces that will provide great services throughout the country have been created. I think that the EXPO areas in Arsuz and Antakya will increase the quality and value of the region. I was very impressed with the fact that it is international and sustainable."
Speaking about HADO, Orçan said, "HADO is one of the best examples of what local governments can do. Thanks to HADO, the bond of love between the TRNC and the Republic of Turkey will be stronger. It is a project that will contribute greatly to the economy and tourism of both countries. Our President, Assoc. Dr. I sincerely thank Lütfü Savaş and his team".
HBB'S PROJECTS RECEIVE GREAT PRAISE FROM TRNC MAYORS
Mayor of Lefke Aziz Kaya said, "It is impossible not to be impressed when you see such huge projects. EXPO and HADO projects seem to add significant value to Hatay in particular and Turkey in general. Huge investments and very well organized. Hatay's gastronomic richness is known. It is important to uncover this wealth," he said.
HBB'S SEARCHES ARE DELIGHTFUL
Mehmetçik Mayor Cemil Sarıçizmeli said that they were in Hatay as guests of HBB and that they were very pleased with the attention they received, and said, "Hatay is very important for Cyprus. Especially the breakthroughs that Hatay has made in recent years are really dazzling. Lütfü President's EXPO areas and HADO project are very important for us" and wished to increase the solidarity between the two countries.
Yeniboğaziçi Mayor Mustafa Zurnacılar also named HBB's projects as excellent investments for the future.
Zurnacılar said that everything is considered in the EXPO areas and added that Hatay will achieve much greater success in the coming years.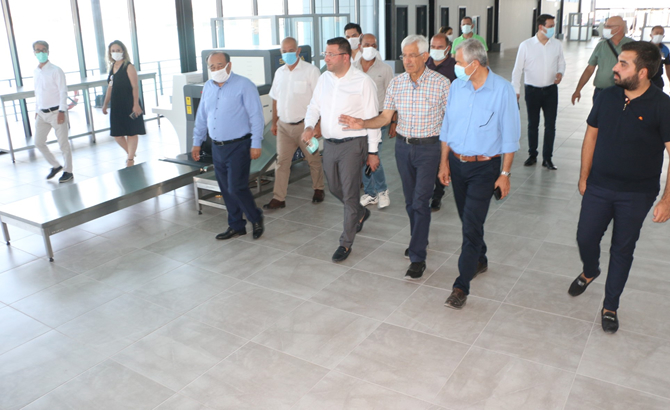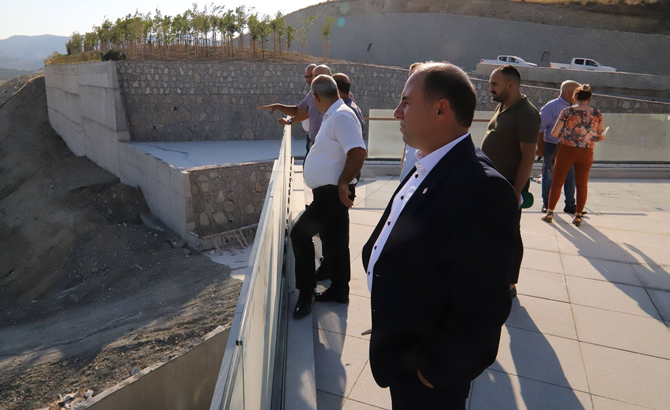 News2Sea
The opinions expressed herein are the author's and not necessarily those of News2Sea.
#Mayors #TRNC #visited #HADO #Port