The poisonous Red Sea origin sea urchin known as the 'Sea Hedgehog' was spotted as a colony on Antalya's world-famous Konyaaltı Beach. prof. Dr. Mehmet Gökoğlu stated that chestnuts, which are reflected in the underwater camera with the colony they established in the shape of a heart, have a different thorn compared to other species.
Akdeniz University Faculty of Fisheries Faculty Member Prof. Dr. Mehmet Gökoğlu, together with his students, dived on the Konyaaltı Beach the other day.
Having encountered a heart-shaped sea urchin colony underwater, Gökoğlu began to examine the species closely. Gökoğlu determined that the chestnuts were originally from the Red Sea known as the 'Sea Hedgehog' and recorded the dive with an underwater camera.
"THE THREADS DO NOT GO WHERE IT ENTERS"
Stating that the native sea urchins in the Mediterranean have decreased considerably recently, Prof. Dr. Mehmet Gökoğlu stated that the chestnuts displayed during the dive are the chestnuts originating from the Red Sea, known as the 'Sea Hedgehog'.
Noting that these sea urchins have started to multiply in Konyaaltı Beach, Gökoğlu said, "These species are invasive species. Also, their spines are very different from our native chestnuts. It has long spines. It almost has a reverse saw tooth when it comes out after entering the body. Therefore, it does not come back from where it entered. You have to push it forward or it has to come out by smashing it. On the shore there are up to 2-3 meters deep. It rises up to 1-2 meters, especially on the coasts where the sea is calm.
"WE WEAR THE BEACH SHOES"
Pointing out that the species has a painful venom, Gökoğlu said, "Especially in rocky areas, wear beach shoes when swimming. It does not have a deadly poison, but it has a painful poison. It is already in the records as poisonous sea urchin. Citizens need to be careful," he warned.
Adding that the sea urchins in question sometimes live in colonies, Gökoğlu said that they were quite surprised that a colony was in the shape of a heart in the images they took underwater.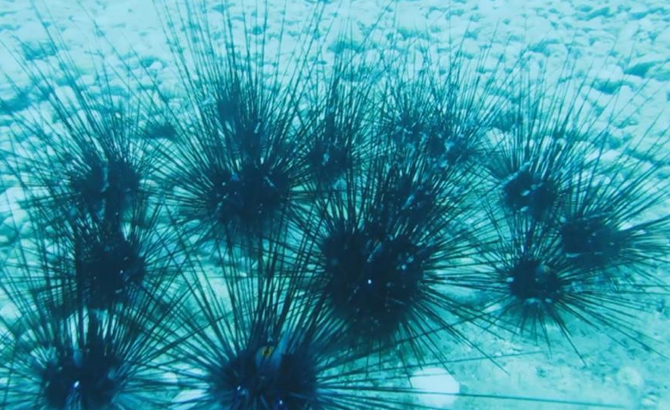 News2Sea
The opinions expressed herein are the author's and not necessarily those of News2Sea.



#Sea #urchins #viewed #colonies