In Mersin's only blue-flagged Mersin Marina, those coming out of the sea made people say, 'Give up on this much'. In the cleaning of the sea bottom by Mersin Metropolitan Municipality divers, a large number of wastes, from ropes and wooden pieces to plastic products, were removed from the boats. Even the shopping cart used in the markets came out of the sea.
The activities of Mersin Metropolitan Municipality Environmental Protection and Control Department within the scope of World Environment Day and Environment Week ended with the cleaning of the seabed in Mersin Marina.
In the marina on the coast of Adnan Menderes Boulevard in the central Yenişehir district, the wastes coming out of the sea were met with surprise.
Fishermen working in the Metropolitan Municipality unearthed interesting materials from the bottom of the sea. A large number of plastic products, ropes, pieces of wood, even shopping baskets were removed from the seabed and displayed for citizens to see.
Metropolitan Municipality Environmental Protection and Control Department Maritime Services and Inspection Branch Manager Ayhan Demir explained the purpose of the event: "We are holding a diving event within the scope of Environment Week events. With the diving event, we want to raise awareness by removing the wastes that have fallen into the sea for any reason or reached the sea in some way, from the seabed, and exhibit them"
Reminding that they held a similar event in the central Akdeniz district, Karaduvar District, as part of the activities held during the Environment Week, Demir said, "There was generally a cleaning based on tire waste. These are mostly tires used to prevent boats from hitting the shore, but somehow fall into the sea. It stays there, creating pollution and adversely affecting living things. In the past years, we held a similar event at the marina. There was a lot of waste from the market cart to the toilet seat," he said.
"EVERYTHING WE THROW ON THE GROUND CAN REACH THE SEA IN A WAY"
Pointing out that all kinds of wastes coming out of the seas harm the creatures in the sea, Demir said, "Especially plastic and plastic bags, sea creatures can die by eating them as food. The blue caps on these plastic bottles can stick to the fish's backs and stay there, inhibiting the growth of the fish and harming too many sea creatures. Everything we throw on the ground somehow ends up in the sea. We ask our people, especially in order not to pollute our seas and our city, to throw the garbage in the garbage cans. Our aim is to create a clean sea awareness".
"WE ESPECIALLY INVITE BOAT USERS TO BE MORE RESPONSIBLE"
Metropolitan Municipality Marine Pollution Inspector and Marine Transport Operations Engineer Pelin Teymur, on the other hand, referred to the reason why they held the diving event in Mersin Marina and said, "Mersin Marina has such a feature; Our only blue flag marina among the marinas in Mersin. That's why Mersin Marina is a priority area for us. Two days ago we dived at Blackwall. We removed about 10 cubic meters of garbage from the sea there. Since Mersin Marina is a blue flag facility, we see that it is cleaner than other areas and we expect our garbage rate to be lower. We especially invite boat users to be more sensitive in this regard."
"WE CANNOT SOLVE THIS PROBLEM BY PERFORMING SURFACE OR BOTTOM CLEANING"
Teymur stated that 80 percent of sea pollution is caused by land and 20 percent is caused by sea vehicles, and said, "We cannot solve this problem by cleaning the surface or bottom and collecting the garbage. The important thing is that the garbage does not reach the sea from the first user at the source. For this, we have to throw our garbage in the trash cans at homes, on the beaches, on the streets, everywhere, we must separate them."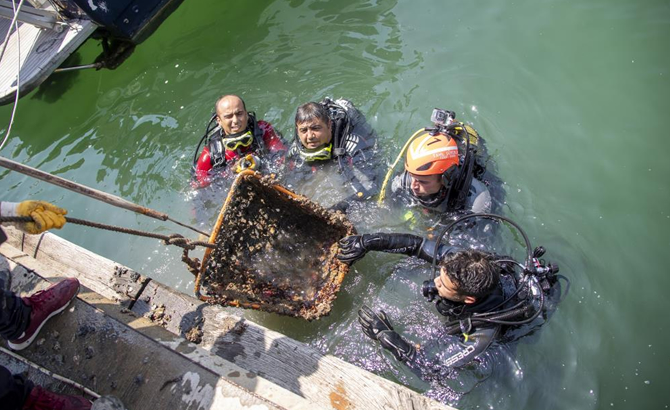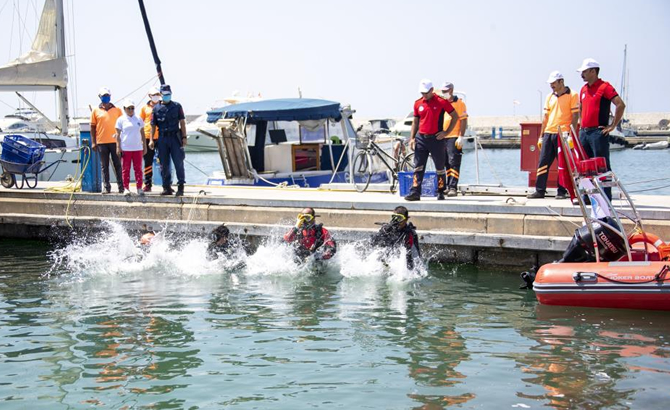 SEA NEWS AGENCY


#Seabed #cleaning #carried #Mersin