Measuring an impressive 728 feet, the Somnio will be the world's largest yacht in terms of both length and volume when it begins service in 2024. The yacht will create a different concept consisting of apartments as well.
The yacht named Somnio, which will be completed in 2024, will be 222 meters long when completed. This is not the only thing that distinguishes this yacht from the others. Yacht, whose name means dream in Latin, is actually an apartment. The apartment in question will consist of 6 floors and will include 39 apartments. Yacht residents will also be offered amenities such as restaurants, bars and beach for apartment residents.
Norwegian company VARD will build the yacht, designed by Swedish Winch Design and Tillberg Design.
The total cost of the apartment yacht will be approximately 600 million dollars. Flat prices on this private yacht start at $11 million. Sales will be made by invitation or referral. Speaking to CNN Travel, a spokesperson for the project said that some apartments have already been sold.
Somnio's designers stated that those who buy luxury properties will receive the same level of service as a seven-star hotel.
Noting that the yacht's creators will have world-class healthcare services, the yacht's occupants will have the advantage of staying away from the epidemic and other global health risks.
Somnio's co-founder, captain Erik Bredhe, described his experience as a yacht host:
"Designed to rigorous standards, the Somnio will be the only residential superyacht in the world. The hosts will enjoy a unique life at sea, with a specially selected crew and experiences befitting a yacht of this nature, and an unending global itinerary of carefully selected destinations."
It was stated that while it is basically a habitat, sustainability will be the focus for Somnio and will help scientists to conduct research in the oceans.
While the identity of the owners is kept confidential, those who make the cut will benefit from full concierge services "for needs both on board and on land" without mentioning the privilege of owning the world's largest yacht as an address.
Each of the 39 apartments will include "bespoke features" based on the buyer's preferences, but will be provided with a gym, library, as well as indoor and outdoor dining areas, according to a press release from Winch Design.
The designers behind Somnio believe that those who leap into one of their luxury properties will offer the same level of service as a "seven-star" hotel and the great benefits of owning a superyacht.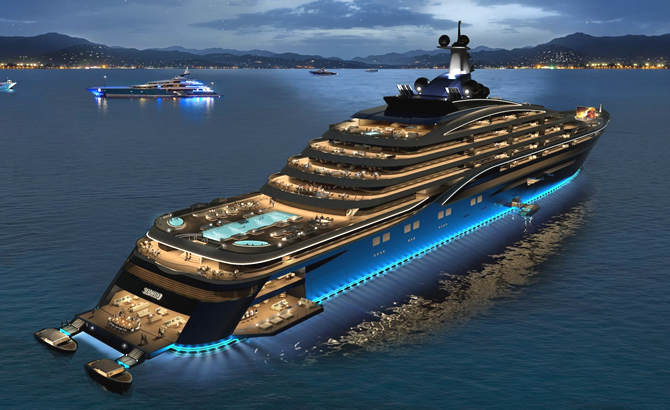 News2Sea
The opinions expressed herein are the author's and not necessarily those of News2Sea.
#yacht #named #Somnio #completed