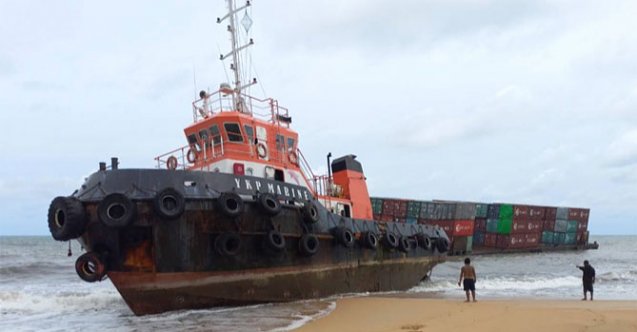 It was stated that on the night of June 6, a rope was wrapped around the propeller of the tugboat named NAMTHONG 39, towing the container barge NAMTHONG 39 in the Andaman Sea, off the coast of Thailand, and the tug became incapable of maneuvering.
Losing control, the 2014-built tug and accompanying barge drifted off the coast of Ko Phra Thong island in Thailand. It was understood that the tugboat sailing from Myanmar to Indonesia with its accompanying barge was dragged for a while and ran aground on the island of Ko Phra Thong.
It was stated that the rescue operation will begin with the arrival of another rescue tug, while the containers on the barge were loaded with rubber wood.
The opinions expressed herein are the author's and not necessarily those of News2Sea.
#Tugboat #container #barge #run #aground #VIDEO