Van Yüzüncü Yıl University Maritime Faculty Dean's Office Prof. Dr. Fevzi Özgökçe was appointed. Taking over the task in the handover program held at Van YYU Maritime Faculty, Prof. Dr. Fevzi Özgökçe, for his contributions and studies, Prof. Dr. Suat Ekin presented a plaque and flowers.
prof. Dr. Fevzi Özgökçe, Van Yüzüncü Yıl University Maritime Faculty, took over the duty with the deans who have served since the establishment date, Prof. Dr. Suat Ekin for his contributions.
prof. Dr. Özgökçe said, "Our Rector Prof. Dr. I would like to thank Hamdullah Şevli."
prof. Dr. Fevzi Özgökçe reminded that the Maritime Faculty, which was established in 2012, took its first students in 2015 and gave its first graduates in 2019, and said, "In the interviews we held with our faculty members at the Maritime Faculty on the first day we started working; Our first goal will be to bring our students from Karadeniz Technical University Sürmene Marine Sciences Faculty to Van since the establishment of the Maritime Faculty. On this occasion, Dean of KTU Sürmene Faculty of Marine Sciences, who has trained and trained Van Yüzüncü Yıl University Maritime Faculty students so far. Dr. We would like to thank Ali Muzaffer Feyzioğlu and, personally, all the faculty and administrative staff. In accordance with the international agreements on maritime education and the (IMO) STCW 1978 and 1995 Convention issued by the International Maritime Organization, the norms regulating maritime training of the Ministry of Transport and Infrastructure, and the YÖK Quality Accreditation Regulation; Our goal is to enable our students to fulfill the requirements of maritime, which is an international sector, in an area where the competencies of them are constantly audited in terms of their standards in areas such as physical environments, devices used in laboratories and workshops, simulators, simulator software, membership to international maritime education institutions and organizations, and it is imperative to provide practical internship and workshop training. In addition to the condition that they have a very good command of English, the priorities we set for them are inquiring, self-disciplined, self-disciplined, self-disciplined, have leadership skills, have a sense of social responsibility, lifelong learner, think and apply analytically, are prone to teamwork, maritime customs and traditions. and to raise them as individuals with traditions. For this, first of all, we will bring a Maritime Faculty with international standards to Van, on the shore of Lake Van, with the support of the physical environment, our faculty members and other necessary conditions, with the support of the benefactors from Van."
Stating that there is a short time left for the announcement of the 2021 YKS results in August, Dean Özgökçe suggested that the students who will make a choice in the new term should choose the Departments of the Maritime Faculty.
Özgökçe asked them to examine the maritime faculties in Turkey one by one, which train professional staff especially for the rapidly developing maritime sector, adopt and implement international maritime rules in accordance with the standards of national and international education institutions, and suggested that they write one of them in their preferences.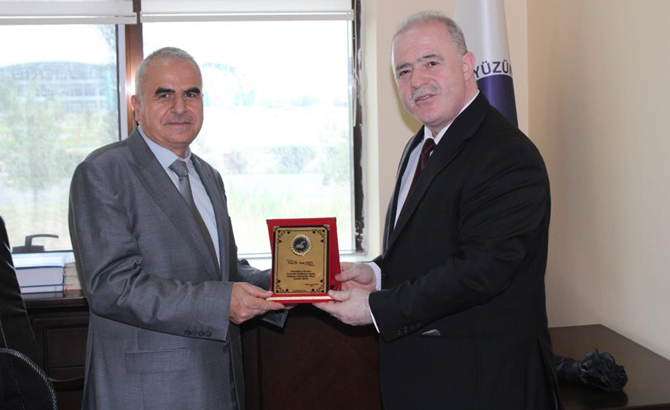 News2Sea
The opinions expressed herein are the author's and not necessarily those of News2Sea.
#Van #YYU #Maritime #Faculty #Deanship #Prof #Fevzi #Özgökçe #appointed