The chemical-laden X-Press Pearl ship, which sank in Sri Lanka last month, has begun to bill the environment. So far, it has been reported that 176 sea turtles, 20 dolphins and 4 whale bodies have washed up on the shore.
A few weeks after the X-Press Pearl, carrying dangerous chemicals, burned down in June, hundreds of dead sea creatures began to wash up on the Sri Lankan coast.
The X-Press Pearl sank in early June after burning for days off Colombo. The ship, which started to burn on May 20, was carrying 278 tons of fuel and 50 tons of kerosene, as well as 25 tons of nitric acid and other chemicals used in the cosmetic industry.
So far, it has been reported that 176 sea turtles, 20 dolphins and 4 whale bodies have washed up on the shore. Environmental organizations say the toxic load could create a chemical mixture that could threaten life in a large area for a long time.
Sri Lankan Environment Minister Mahinda Amaraweera said it is not normal for so many dead sea creatures to come ashore at this time of year.
"Sea creatures have not been seen to die like this during the south-west monsoon season," said Amaraweera, noting that most of the dead animals hit the west coast directly affected by the sinking ship.
NITRIC ACID LEAK
According to the BBC, the 186-meter-long X-Press Pearl ship sailed from Hazira Port in India to Sri Lanka on 15 May. The fire started while the ship was docked in Sri Lanka's Colombo Port.
Fuel, debris and pieces of plastic hit Sri Lanka's cleanest and most beautiful coastline in the area where the ship sank, followed by dead sea animals. Although restrictions were imposed on the fishing of fishermen in the region, some of the bans were later lifted.
Sri Lankan officials, who have filed a $40 million lawsuit against the ship's owner company for the loss of firefighting costs and the income of 50,000 people, mostly fishermen, believe the fire was caused by a nitric acid leak, which the crew had been aware of since 11 May. This strong acid, which dissolves the materials it touches, is widely used in the production of fertilizers and explosives.
The ship's owners also confirmed that the crew were aware of the leak, but noted that Qatar and India did not allow the ship to remain in its waters.
In Sri Lanka, the reaction to allowing the ship to enter the country's waters in this state is growing. The Russian captain of the ship was banned from leaving the country. The captain appeared in court on Thursday, but no indictment has been prepared yet.
The trial, which has been announced that 14 more people will be tried besides the captain, is expected to start on 15 July.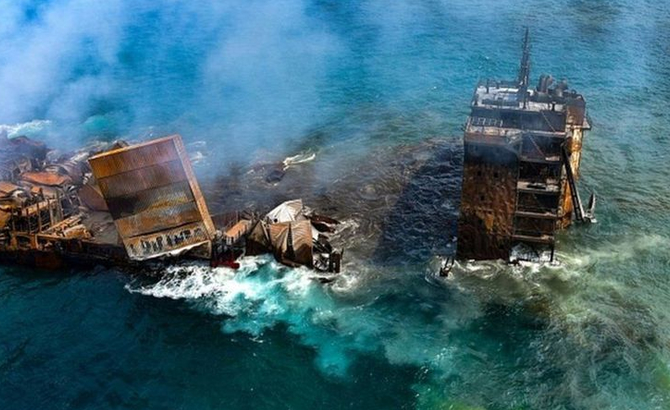 News2Sea
The opinions expressed herein are the author's and not necessarily those of News2Sea.



#XPress #Pearl #ship #kills #hundreds #sea #creatures